In this article, we review the $169 USD Shanling BA1 Bluetooth DAC & HPA. 
Disclaimer: Shanling sent us the BA1 for this review free of charge, I only covered the import taxes and fees. All thoughts and experiences with the product are naturally my own.
Shanling
Founded in 1988, Shanling has been developing Hi-Fi products for more than 30 years now. From high-end CD players to classy tube-amps, the brand made a name thanks to great craftsmanship and top-of-the-line performances.
These past years, the brand also developed a complete range of portable players, IEMs, and Bluetooth devices. You can check our previous Shanling reviews here. Today I'll be reviewing their wireless DAC & AMP all-in-one device, the BA1.
Shanling BA1 Wireless Desktop DAC & HPA
Specifications & Technical Data (more here.)
DAC: ESS Sabre ES9218P
Bluetooth Chipset: CSR8675 BL 5.0
Bluetooth Codecs: SBC/AAC/aptX/aptX HD/aptX LL/LHDC/LDAC
Transmission Distance: Approx. 10m
LDAC/LHDC Support: 24bit 96kHz
USB Input Support: 16bit 44.1/48k (Driverless)
I/O: USB & Optical Input, HPA 3.5mm, RCA LO
Output Power: HPA 1.41V – RCA 2.0V
Dimensions: 120x100x26mm
Weight: 205g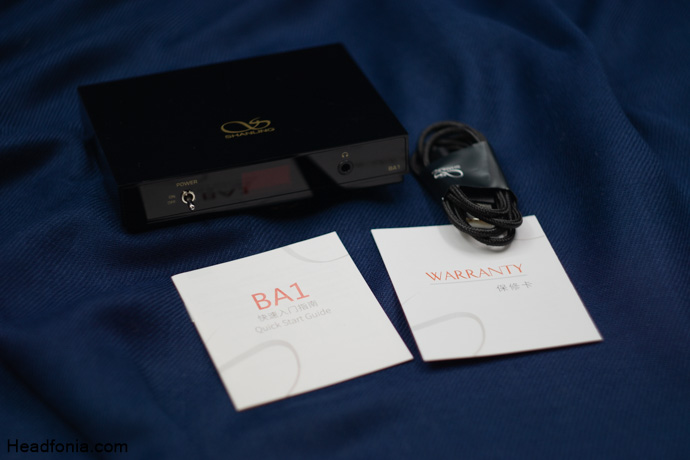 Packaging & Accessories
Shanling's BA1 comes in a small black box. Shanling has kept the box very plain and there is no writing anywhere on the box. There is only one barcode on the side and the name of the product is written on this barcode. Lifting the top cover reveals the inner foam compartment where Shanling packed the accessories and the device safely for transportation. The DAC is small and thin and you only get a braided RCA cable with it. There are no RCA or any additional interconnects present in the box.
Design & Build Quality
Shanling BA1 has an angular design that looks stylish. The device features square lines, an aesthetic glossy surface, and a design that blends the old with the modern. On the front of the device, there is a small screen, an analog-style power switch, and a 3.5mm headphone jack. When we look at the back, we see the RCA output, optical, and USB input.
I don't know if you noticed but there is no button to control the device. When the device is connected to the USB cable, it automatically detects and switches to USB mode. Likewise, when an optical cable is connected to its optical output, it switches to optical mode. If it has not received a signal from either of these inputs for a long time, it is waiting in pairing mode.
The BA1 is a very compact device. It can be conveniently placed behind or above your stereo speakers. You can even attach it to the back of your speakers with velcro tape, blessing them with wireless connectivity. It is an all-in-one solution that won't take much space on your desk. 
The RCA sockets are gold-plated and feel pretty solid. The device uses USB-C as the USB interface and the USB-C port undertakes the task of carrying both power and data. Of course, it's also possible to get power from the wall adapter instead of the USBs of a computer. As I mentioned before, the device has a glossy and semi-reflective surface. There is a golden Shanling logo in the middle of the top cover. Since it has a simple layout, it is very easy to learn to use the device.
The screen of the device informs us about the connection status and active mode, but it is not very detailed. A screen where you can view many details at the same time was not preferred, Shanling went with simplicity on this unit.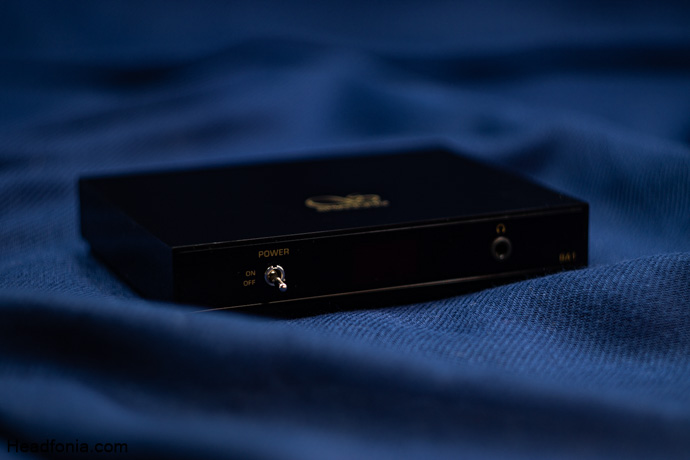 Features & Technology
The BA1 is a multi-purpose, all-in-one solution device. The main goal of the BA1 is to provide you with high-definition wireless codecs such as LDAC and LHDC. On top of that, Shanling added a headphone amp module and liberated the device from being just a wireless DAC, but if you are going to use the USB input, you should not forget that you are limited to 16bit – 48kHz. In my opinion, this device needed a better USB controller with full 24-192 decoding through USB. However, as I mentioned, Shanling designed the device as wireless first so LDAC and LHDC do indeed offer 24-96 through Bluetooth.
It is possible to integrate the device into many usage scenarios. As I mentioned before, you can use the device to add wireless functionality to your stereo speakers, or you can use it as a USB DAC-AMP on your desk that you can use with both your speakers and headphones. You also can connect up to two devices to the BA1 via Bluetooth.
Let's talk about the components and technical details of the device. First of all, the device uses a high-end chipset called Qualcomm's CSR8675 as a Bluetooth chip. This chipset supports the top wireless standard LDAC and LHDC via Bluetooth 5.0. It is also possible to achieve lower latency while watching movies or TV shows with the AptX LL codec. The device is powered by the ESS Technology company's ES9218P DAC chip, which aims to provide high performance with low power consumption.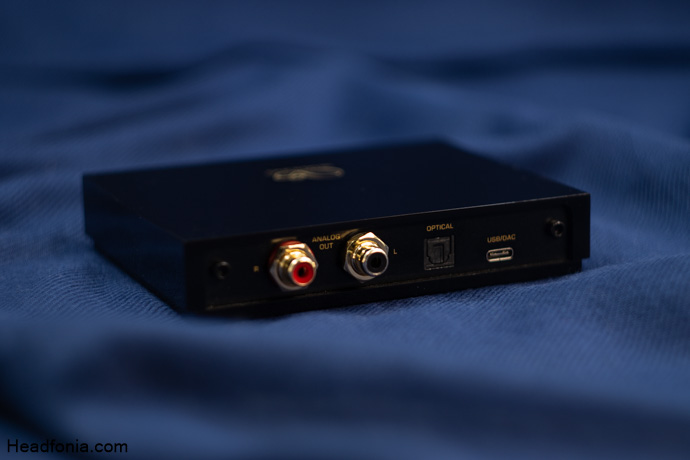 I don't have any details about the amplification stage so I will try to enlighten you on the HPA output. I tested the HPA using the Sennheiser & Drop's joint project, HD58X. It has 150Ω drivers inside and the BA1 feels like it barely meets the driving standard. It does not get uncomfortably loud. I think that Shanling must have integrated this amp stage for easy-to-drive headphones and in-ear monitors. I don't recommend using it with power-hungry cans. 
However, it is perfectly fine with all the IEMs in my inventory. They get loud enough and it does not feel like it is lacking any power in this regard. Shanling states that the output power of the HPA out is rated at 1.4V and the RCA LO is rated at 2V. Unfortunately, Shanling does not provide further details about this section. I also noticed this while testing USB and LDAC back and forth; I got higher power from the HPA output when I listened to the DAC via LDAC. This, I think, confirms that Shanling has optimized this device for wireless once again. My views on the amp stage are limited to these. I just wish it was at least powerful enough to comfortably drive 150-ohm headphones.
The review continues on Page Two, after the click HERE or by using the jump below.
Page 2: Shanling Controller App Support, Sound Performance, Technical Capability, Comparisons, Conclusion